Oprah has hers and I have mine… Favorite Things. ;)
I'm an affiliate for the resources listed below. Nothing listed is anything I haven't used and loved. In fact I still use all of them except two. One I outgrew, the other outgrew me.
Membership Website: MemberMouse
I've used a few different membership site plugins before, including Digital Access Pass, WP Member and OptimizePress. MemberMouse is by far the simplest I've had the pleasure of using. Set up is fast, features are rich and the price is not expensive for starters. If you've been stuck launching your membership program because you don't know which tech tools to use, this is a great plugin. As an "own your assets" advocate, I prefer using a WordPress plugin for a membership vs. third-party services. One thing to note is that a standard membership site is different than a course builder or learning management system (LMS) that usually includes a more "modules and lessons" type layout, quizzes, certifications and the like.
---
Shopify Funnels & Landing Pages: Zipify Pages
I use a couple of tools to make landing and sales pages including Ontraport and Thrive Content Builder (see both of these below). I even use just a custom page template in my WordPress theme for some things too (sometimes drag-n-drop builders just don't give me the level of customization that I want). I started out using Ontraport to try to build out an eCommerce funnel with my Shopify store. It was not ideal and kinda tedious. Then I found Zipify Pages and absolutely love it. I'm not really a fan of ClickFunnels, for many reasons, and Zipify Pages integrates directly with my Shopify store. They have pre-made templates that are great out-the-box, as well as the ability to make custom pages using their "blocks". Definitely worth the investment.
---
eCommerce Store: Shopify
I'm kind of a WordPress snob :)… BUT.. I actually LOVE Shopify for eComm sites (because WooCommerce just makes me tired ???? ????).
---
Password Manager/Vault: LastPass
All I have to say is LastPass SAVES my life… EVERYday. (I'm being kinda dramatic but it's true.) Losing passwords is so 2000-and-late. ;) I pay a measely $12/year for LastPass and it is worth every literal penny and then some.
---
eCovers and Product Mockups: MyEcoverMaker
Use MyEcoverMaker.com to create stunning eBook covers and product mockups; all online. I've used it for a long time to make eCovers for my lead magnets and products as well as for my clients. You can get a subscription or make individual covers for as little as $4.95 each.
---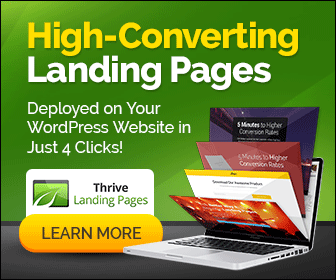 Landing Pages, Sales Pages, Email Signup Pages: Thrive Landing Pages
Use Thrive Landing Page Sets to create your marketing funnels. It's one of my favorite plugins. Create flawless, high-converting and extremely polished looking pages that take your visitors all the way from initial signup to purchase, product download and more.
---
WordPress Backup Service: BlogVault
If I could shout it from the mountaintops 24 hours a day 7 days a week I would… "Backup your website! Backup your website! Backup your website! Regularly. Don't just rely on hosting company backups." Wishing you had it when you need it is already too late. BlogVault costs just $9/month for one site. And you get a 7 day free trial. Pennies compared to what you'd have to pay me or my colleagues, to try and restore what you lost. IF we can even do that. Don't risk it. It's soooo not worth it. Backup your website.
---

Email Marketing & Business Automation: ONTRAPORT
I've used many, many email marketing and automation tools. ONTRAPORT is a more advanced level system that offers an all-in-one solution. With ONTRAPORT, all your business tools, data and customer information is in one system and everything works together seamlessly. You'll create better customer experiences, increase sales and you can automate everything, saving a ton of time.
---
Shopping Cart, Email Distribution and Email AutoResponders: 1ShoppingCart
I have used 1ShoppingCart for years and although I have had major beef with them a couple of times, they do have a good all-in-one system for ecommerce, bulk email distribution with link tracking, autoresponder setup, affiliate tracking and more. I like the concept of everything being together. (This is the one I outgrew.)
---
WordPress Themes: StudioPress (Genesis Framework & Child Themes)
Although I provide maintenance and customization services for several different WordPress themes, since the end of 2012 I began using The Genesis Framework from StudioPress exclusively to build all new websites. The have great built-in SEO benefits, awesome support and cool themes that are very customizable.
---
WordPress Managed Hosting: WPEngine
In the past, I used WPEngine for this website after having several issues with Hostgator where my sites kept disappearing! I was very pleased with WPEngine's level of customer service (people actually know what they are talking about… go figure) and the speed of my site. I had a little glitch in the beginning but they fixed it fast. One thing to consider is that they only do managed WordPress hosting… so you'll have to setup your email elsewhere. Given all of the bad hosting I've experienced in the past, that wasn't a deal breaker for me. Another thing to note is that with WPEngine, each installation of WordPress will cost you… so if you have more than 1 website you'll start out at their "up to 10 installs" plan right out of the gate. While it is a more expensive option, the level of service is very good.
---
Siteground Website Hosting
I have several sites, including this one, that I don't need (or prefer) managed WordPress hosting on so I decided to move them to Siteground. All of their web hosting plans are carefully tailored. On top of the standard features like free domain names, 24/7 technical support, 99.9% uptime, etc., they add their own custom-made solutions to make your website faster, safer, and better supported than anywhere else.